I'm still jazzzed from my Malkinlaunch, and to a certain extent from the response to my post on the hate mail. So I thought I'd share the love.
One of the lines in the letter that I just kind of took in stride the first time has proven prophetically ironic. That's where the writer says,
"its obvious within a few lines of reading that you share no sympathy for anyone left-of-Reagan."
Let's set aside for now the reply already made, as well as the fact that I'm probably slightly
to
the left of Reagan on a few issues, as well as to the
right
of him on a few others. Let's go back and ponder the fact that this writer considered it an insult to compare me politically to Reagan. This comment appears to me to be similar to the hyperbole I or other conservatives use on occasion to make a point, when we say that, for instance, John Kerry *is* a moderate -- when compared to Pol Pot. The connotation seems to be that Reagan is about as evilly far out to the Right as Mao or Lenin is to the Left.
This is laughable. When you consider the great good accomplished by the man, his victory over the Soviet regime, the only thing a man like RWR has in common with a Mao or a Lenin is his impact on history. He is, in my opinion, one of the greatest American Presidents ever, certainly one of the two greatest of the 20th Century.
And now I've been afforded an opportunity to honor him. I was sent an email regarding this movie: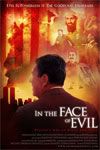 "In the Face of Evil," to Open Conservative Liberty Film Festival
in Los Angeles October 1st
Hollywood, CA - September 22nd 2004- Writer/Director Stephen K. Bannon's "In the Face of Evil: Reagan's War in Word and Deed" will open the 2004 Liberty Film Festival, Hollywood's first openly conservative film festival. The festival will be held Oct. 1st-3rd at the Pacific Design Center in West Hollywood.
"In the Face of Evil: Reagan's War in Word and Deed" is a controversial look at Reagan's victory over Communism within the context of mankind's continual fight against evil, including the current war against Islamic Fascism. Based on Executive Producer Peter Schweizer's book "Reagan's War," "In the Face of Evil: Reagan's War in Word and Dead" was produced by Tim Watkins, and co-written by Julia Jones.
Screening time: 6:40 pm
Screening Location:
SilverScreen Theatre at Pacific Design Center
8687 Melrose Avenue
2nd floor Center Green
West Hollywood , CA 90069
site:
www.libertyfilmfestival.com
"The must-see movie of the season...disturbing and deeply-moving...I found myself weeping"
- Maggie Gallagher, NEW YORK POST
"A brilliant effort...extremely well done."
- Rush Limbaugh
" A powerful portrayal of a critical point in history that exposes the intensity of
the struggle against communism and President Reagan's campaign for victory.
As someone who had lived these times, I was very moved by the detail and
emotion in which they were brought out on film. The lessons of our struggle
against the evil empire are more relevant than ever in regards to the conflict
of today's world."
- Lech Walesa, Nobel Laurite and former President of Poland