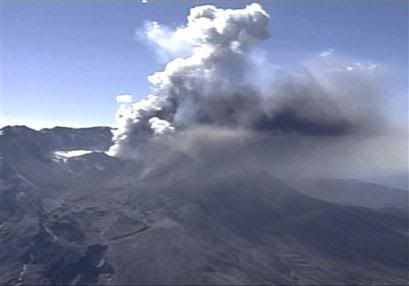 AP Photo
Mount St. Helens Awakes, Erupting Steam and Ash
By Tom Banse
MOUNT ST. HELENS NATIONAL VOLCANIC MONUMENT (Reuters) - Mount St. Helens spewed steam and gray ash from a small explosive eruption in its crater on Friday, as the volcano in Washington state awoke from its slumber for the first time in nearly two decades.
A plume rose in a column from the crater just after 12 p.m. PDT in the first eruption since 1986, but was well below the scale of the catastrophic 1980 eruption that blew off the top of the mountain and spread ash across North America.
"This is exactly the kind of thing we've been forecasting to happen, which is a small steam and ash explosion that could send things up several tens of thousand feet above the rim of Mount St. Helens," said Cynthia Gardner, seismologist for the U.S. Geological Survey (news - web sites), "How long it will last we don't know."
A team of geologists was installing equipment in the crater of the volcano, and the U.S. Geological Survey said they were trying to determine how safe they were.
The plume of steam and ash was being carried to the northwest by the wind over uninhabited areas, said Peter Frenzen, a U.S. Forestry Service official.
There were several hundred witnesses at the Johnston Ridge Observatory, but they did not report hearing any loud explosions.
Earlier on Friday, government scientists reported that the lava dome created after the 1980 eruption had swollen slightly slightly and that cracks appeared on the glacier inside the rumbling volcano's crater.
The 1980 eruption killed 57 people, destroyed more than 200 homes and devastated hundreds of square miles of surrounding land. Ash from that outpouring billowed across the continent and was carried as far east as Oklahoma.
Recent activity, which started with a series of small earthquakes a week ago and a 2.5-inch shift in the lava dome's location, is happening within the horseshoe-shaped crater that formed after the eruption.
Government scientists and officials said that the main concern was whether a plume of ash would form and interfere with air traffic.
Mount St. Helens is in southeastern Washington, about 100 miles south of Seattle and 50 miles north of Oregon's largest city, Portland.
Air traffic officials said they were on alert and prepared to divert air traffic in case of an ash-spewing eruption.
Seismologists said there was no connection between activity at Mount St. Helens and a strong earthquake near Parkfield, California or a smaller series of quakes in Alaska earlier this week.
The violent eruption of Mount St. Helens on May 18, 1980, blew off the top of the volcano, reducing its summit from 9,677 feet to 8,364 feet.
In addition to the 1986 eruption of the mountain's lava dome, strong earthquakes were detected in 1989, when fresh magma entered the volcano's lava system.
(Additional reporting by Allan Dowd in Vancouver, B.C.)
A northwesterly flow coupled with a weak section of the jet stream means we may get some ash here in Eugene, if it hangs in the air long enough. We'll see.
UPDATE:
I may live in the region, but Rusty at MyPetJawa has
better blog coverage of the event
.
My mom emailed me with the news. She was recalling the 1980 eruption, when ash fell in our small town in Idaho, several hundred miles to the east, and the sky turned blood red. It was eerie.
UPDATE 2:
The Following is a Sever Weather Alert for Eugene issued by the NWS:
CASCADE FOOTHILLS IN LANE COUNTY-CASCADES IN LANE COUNTY-CENTRAL COAST RANGE OF WESTERN OREGON-CENTRAL OREGON COAST-CENTRAL WILLAMETTE VALLEY-COAST RANGE OF NORTHWEST OREGON-GREATER PORTLAND METRO AREA-GREATER VANCOUVER AREA-LOWER COLUMBIA-
LOWER COLUMBIA AND I - 5 CORRIDOR IN COWLITZ COUNTY-NORTH OREGON COAST-NORTHERN OREGON CASCADE FOOTHILLS-NORTHERN OREGON CASCADES-SOUTH WILLAMETTE VALLEY-SOUTH WASHINGTON CASCADE FOOTHILLS-SOUTH WASHINGTON CASCADES-SOUTH WASHINGTON COAST-WESTERN COLUMBIA RIVER GORGE-WILLAPA HILLS-INCLUDING THE CITIES OF...ALBANY... ASTORIA... BATTLE GROUND... CASCADE LOCKS... CASTLE ROCK... CATHLAMET... COLDWATER RIDGE VISITORS CENTER... CORVALLIS... COUGAR... DALLAS... DETROIT... DOWNTOWN PORTLAND... DOWNTOWNVANCOUVER... EUGENE... FLORENCE... FRANCES... GOVERNMENT CAMP... GRANDE RONDE... HILLSBORO... HOOD RIVER... JEWELL... LONGVIEW... LOWELL... MANZANITA... MAPLETON... MCKENZIE BRIDGE... MCMINNVILLE... MILL CITY... MOUNT ST. HELENS... NEWPORT... OAKRIDGE... OREGON CITY... RAYMOND... SALEM... SANDY... ST. HELENS... STEVENSON... SWEET HOME... TILLAMOOK... TOUTLE... VERNONIA AND VIDA
1018 AM PDT FRI OCT 1 2004
...WINDS ALOFT FORECAST FOR MOUNT ST. HELENS FOR PLANNING PURPOSES...
SYNOPSIS...A STRONG UPPER HIGH WAS OVER THE EASTERN PACIFIC OCEAN THIS MORNING...AND WILL SLOWLY MOVE ONSHORE AND OVER THE REGION THROUGH THE WEEKEND. THE LOW LEVEL WIND FLOW IS OFFSHORE THIS MORNING...BUT WILL WEAKEN THIS WEEKEND AS THE UPPER HIGH MOVES OVERHEAD. THE CURRENT NORTHERLY UPPER LEVEL WIND WILL WEAKEN THIS WEEKEND. A MARINE LAYER WILL DEVELOP ALONG THE COAST THROUGH SATURDAY AND SPREAD INLAND THROUGH THE COASTAL GAPS LATER THIS WEEKEND AND EARLY NEXT WEEK. THE UPPER RIDGE SHOWS SIGNS OF WEAKENING THE MIDDLE OF NEXT WEEK WITH A WEAK FRONT POSSIBLE TUESDAY WITH ADDITIONAL SYSTEMS LATER IN THE WEEK.
ELEVATIONS BELOW ARE HEIGHTS ABOVE MEAN SEA LEVEL. MT. ST. HELENS CRATER FLOOR IS AT 6279 FT. WIND FORECASTS BELOW 6279 FT APPLY TO NEARBY LOWER ELEVATIONS.
WIND DIRECTIONS ARE BASED ON TRUE NORTH AND ARE THE DIRECTION THE WIND IS BLOWING FROM. WIND SPEEDS ARE IN MILES PER HOUR. EXAMPLE...36005...REPRESENTS A WIND FROM 360 DEGREES AT 05 MPH.
MORNING SALEM BALLOON SOUNDING
ELEV 10/01 0500PDT
3000 08008
6000 11004
9000 20004
12000 31006
18000 36023
24000 35027
30000 35028
34000 34016
39000 33031
FORECAST WINDS ALOFT
ELEV.
UPDATE 3:
Weather Channel Animated Feed of Most Recent Satellite coverage of the PNW
. So far the eruption barely shows as anything on the map -- a tiny speck of gray just a bit NE of Portland. Nothing compared to '80. We'll see if it pumps enough ash to even show up.
UPDATE 4:
Rusty links to a
Live Feed from KGW-TV/DT Portland & KING-TV/DT Seattle
.