Since I moved back to Oregon, and settled here in Lane County, this has become my favorite time of year. One of the reasons I favor it is because it's early enough in the year that there is still snow in the High Cascades, but the weather is nice enough down here in the valleys that you get clear air and a good view of the mountains. In fact, because of the placement of one of our local freeways, I-105/Hwy 126, as it passes over I-5, our daily drive home points us straight at a picture-framed view of this: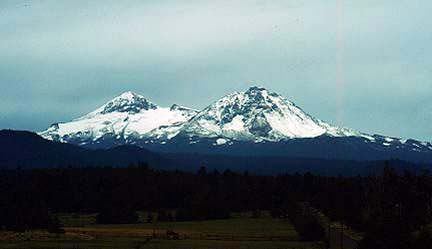 albeit from a different angle and a greater distance, it's a gorgeous sight each day. Those are the
Three Sisters
, and they're among the most likely volcanoes in the central Cascades to reactivate during my lifetime.